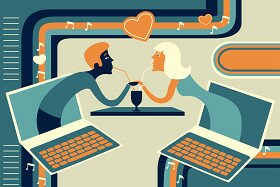 Dating after divorce is one of the more daunting aspects of the After Wife (along with hanging up the Christmas lights by yourself and killing all of the spiders). Apart from the near crippling fear of having to get naked in front of new people there may be other issues that may be keeping you from hitting "post now" on your Plenty of Fish profile.
I've been on literally dozens of dates and am considered something of a Dating Doula to many of my newly single friends. Based on my highly unscientific personal experience, here's my list of my dos and don'ts for dating after divorce:
DO: Take your time to truly get over your ex and be at peace with your new life. Many people will tell you that the best way to get over someone is to get under someone else. I can tell you that although it is fun to get under someone else (and perhaps several somebodies) it will not magically heal your unresolved issues you have with your divorce. Trust me on this one, kids, I TRIED SO YOU DON'T HAVE TO.
DO: Separate church from state. In other words, don't bring every person you date home to meet your kids. Make sure that your new relationship has legs before you introduce your children to your new love. On the other hand, if you have been separated or divorced for a couple of years I think that it's OK for your children to know that you are dating. I knew that I had been needlessly hiding my dating life from my kids when my youngest son made a minifig Lego person "to take me out for dinner sometime."
DO: Something original for a first date. Coffee or a walk on the Seawall are so predictable. Try meeting for a hike, a run or a trip to the dog park. Something that allows you to converse without worrying about long awkward silences across the table. And definitely don't meet a first date at a movie theatre. All sorts of weird shit can happen when you're sitting next to a relative stranger in the dark. And always let a friend know where you are going and give them a call afterwards (if only to dissect or kvetch about the date).
DO: Be honest. Never leave in the middle of date – unless s/he takes his teeth out & leaves them on the table – but if by the end of it, your date asks to see you again simply say "I had a great time, but I don't think we're a fit for one another. All the best to you on your search!" Don't worry about saying this face-to-face, this will usually take place via email or text following the date. My cool friend Emma at Wealthy Single Mommy has some great advice for dating in the digital age if you need guidance with on-line dating, email, texting and yup, sexting.
And now for the Oh, honey. Just. Don'ts:
Just. DON'T: misrepresent yourself on your on-line dating profile. There used to be a saying in the early days of the world wide web: Nobody can tell that you're on dog on the Internet. Except now they can. We all have numerous social media profiles and networking accounts – Facebook, Twitter, tumblr, Linked In – that can be mined with minimal effort. It's just deceptive and wrong to show up to a first date 50 lbs heavier and/or 10 years older than you claimed to be on OK Cupid.
Just. DON'T: talk shit about your ex. Not on a first date, not on social media, not ever. Nobody wants to hear your separation story over that first glass of Malbec. Keep the conversation light and fun and try not to get into too many personal details too soon. The story of your marriage and its break-up belongs to two people and just one of you is on that date (well, hopefully just one of you. Although, no judging). As for social media, my rule of thumb on this blog, on my Facebook pages or on Twitter is that I never write anything that I wouldn't want my kids to read. The thought of one of my boys reading anything negative about their father ensures that my inside voice remains so.
Just. DON'T: expect to meet The One on your first foray into the dating world. If you happen to meet the perfect person on Date 1? Mazel Tov! But the reality is that dating is a numbers game; the more you date, the more people you meet , the better your chances will be that you will find the person you want to cast in a starring role of your second act. And don't write off a date as a waste of good lip gloss if there are no sparks. I've met people through dating that have turned into wonderful friends, professional contacts and even clients.
And one last Don't: Don't get discouraged or disappointed. Dating is like training a muscle that has laid dormant for years. It's going to take time , focus and lots of practice to feel strong and confident.
Do you have any dating after divorce tips? Drop me a line or get at me on Facebook or Twitter @divorcedoula604