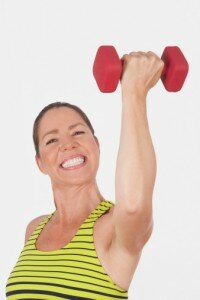 One of my favourite photos is of my youngest son & I, taken on a beach in Ixtapa, Mexico. He's just turned 4 years old and I am holding his tiny body next to mine with one arm. We're looking at each other and laughing as the waves crash around us.
The photo was taken in February of 2010. I was in the best shape of my life – my tanned arms are defined and toned, my abs flat and legs strong and muscled from running, weight training and yoga. I used to look at that photo with wistfulness and wonder: how could I have looked so perfect yet been so miserable? Because February 2010 was the beginning of the end of my marriage.
Fast forward 5 years: 5 years of healing, of forgiveness, of blogging, of moving forward with kindness and dignity. I have grown so much emotionally and spiritually since my divorce but unfortunately, my spirit isn't the only thing that has grown. Sometime over the course of a stressful divorce, a failed engagement and the double-edged sword of single parenting – it's at times both incredibly busy and frighteningly lonely – I lost touch with my physical self.
But I never forgot how it felt to be strong and lean, to run with ease and lightness. So I decided to do something about reconnecting with that feeling.
I started hiking the heavenly North Shore trails several times a week with friends and my Glorious Golden, Dug, joined a fabulous group of women in Pilates twice a week at Esprit de Core and re-opened my yoga membership at Y Yoga. My confidence came back fast & furious and I was loving the energy, mental clarity and sense of accomplishment regular exercise gave me. For some reason though, I wasn't seeing the type of results that I was hoping for and became frustrated when the scale didn't move as quickly as I thought it should.
Then three things happened. I think the order was serendipitous:
I had the opportunity to attend a Wellness Week & Yoga Retreat at the wonderful Chopra Centre which helped me look at some of the habits that had developed over the years – including emotional eating and a sneaky wine habit – and gave me the tools and support to kick them and make healthier, more mindful choices. I also met some amazing people who were also committed to being their best selves and I am fortunate to call those people my support network and more importantly, my friends.
I met The Ginger Snap, a man who awed me with his kindness, athleticism and if we're being honest, his fantastic ass. He loves me as I am but inspires me to be better in every aspect of my life.
After not seeing one another for a decade, I had a chance encounter with one of my first mentors, Mijanou Serre, who over a catch up lunch told me that she had become a natural body builder and achieved great results her trainer and Isagenix. When I told her that I wanted to run a 13km trail race this summer she kindly but firmly told me that although my activity level was impressive, my nutrition would need to change if I wanted to run with ease and reach my goal. I listened and agreed. It was time for a change.
I committed to a 30 day Isagenix cleanse with Mijanou monitoring my overseeing the program including adapting it for my activity level. She'll also be charting my progress and suggested that I blog about the experience in order to be accountable, to share my story and hopefully inspire others to make changes in their own lives. I realized that this was exactly what I needed to do: I needed to step out of my Divorce Doula shoes and into my After Wife runners.
So over the course of the next 30 days I'll be writing about my experience: my ups & downs, highlights & low days, successes & set backs. I promise not to write about what I'm eating because no one gives a shit about my salad. I hope you'll join me on my journey & be inspired to chart your own course to becoming your best self.
Please note that this is not a sponsored post. I haven't received compensation in services or products to write this series.