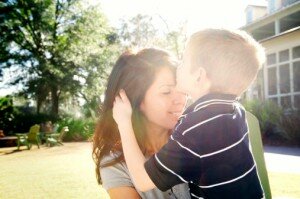 There was a Huffington Post article that went viral in my social media circles yesterday. It was an article about the three things that little girls need from their fathers. As the mom of two boys, it didn't necessarily apply to me, although I do wish my own father had read it when I was younger. It did make me wonder what are the top three things that little boys need from their mothers and in my case, from their single mothers. I sent out the question to my friends with boys – married, single, gay, straight – and three clear lessons that we can teach our boys emerged.
Lesson 1 Respect for women: All girls do not look like the girls on the Internet. In fact the vast majority of them will not & I hope you don't bring the ones that do home to meet your mom. Boys need to understand – just as importantly, if not more so than girls, that women do not come fully photoshopped, freshly waxed, Botoxed, Spanxed, siliconed & compliant to your wishes. Girls – and the women they will become – come in all shapes, sizes, colours and orientations. We can teach our boys that a woman's beauty is found in her imperfections; they are what makes her unique and desirable. Our boys need to learn to value kindness, intelligence, curiosity, compassion and humour over cup size.
Lesson 2- It's OK to be vulnerable. Talking about your feelings, your fears, your dreams doesn't mean that you're a sissy or weak. In fact, your emotional intelligence will be a great asset to you as a boyfriend, father, friend, son and human being. Speaking with authenticity & making yourself vulnerable will enable you to become stronger, more confident, loving and loveable.
As mothers, we can also teach our boys that when girls talk about a problem, she doesn't necessarily want you to fix the problem. She wants you to acknowledge and validate her feelings. And just as when your mom has a problem, it's not your job to fix it. As a single mom, my eldest son often feels the need to "protect" me. This is a huge responsibility for a 10 year old & I endeavour to teach him that women are strong, competent and fierce. We will protect you until you are ready to fend for yourself. And speaking of fending for yourself…
Lesson 3 – Be self-relaint & resilient Our boys need to know that life will not be served to them on a platter & that things will not always go their way. Teaching them to prepare meals for themselves (and a special someone), do a load of laundry, pick up groceries & take care of their little brother will empower them & turn them into the man that every one will want to marry. And more importantly, STAY married to.
Resilience is also a good lesson for our boys. Boys are raised to believe that resilience means physical strength or toughness, but resilience is as much mental as it is physical. Instead of reacting to disappointment, adversity or rejection with anger, moms can teach their boys to talk about the situation and set a path for overcoming it. Empowering our boys to work through the tough times instead of solving the problem for them may just be the key to their independence, success & happiness.
Of course,raising our boys to be happy, healthy young men is not just a mother's job & our children will be best served if both parents support these lessons. I'm looking forward to teaching my boys these lessons in conjunction with their dad & we're open to all the lessons that they will teach us in return.