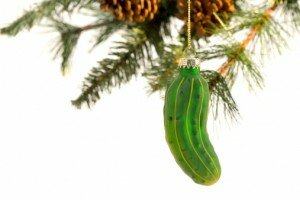 We all have our family holiday traditions – for us, traditions include picking out & trimming the Christmas tree, fighting over which stuffed animal adorns the tree top (last year was a purple squid, this year a gentle lamb is our angel), blending Christmas & Hanukah (Oh, Chrismukah!) a walk around Lost Lagoon to admire the Christmas Tree, and making the pilgrimage to the Island to celebrate the holidays with family. As I mentioned in an earlier post the holidays post-divorce can be challenging as we struggle with memories of Christmases past. Being a glass half full kind of girl, I decided to accentuate the positive and take the time to establish new traditions for my family.
I had the perfect opportunity this past weekend to try on a new tradition for size & unlike some of my skinny jeans, this one actually fit. The fine folks at The Cultch in East Vancouver invited my family to attend a performance of "Jack & The Beanstalk: An East Van Panto" at the gorgeous new York Theatre on Commercial Drive. As a single mom, my family also includes fabulous fellow single moms like JG & her son so last Sunday the five of us made our way to East Van for some pizza & panto. Over lunch, JG told me that growing up, she used to go to attend holiday pantos with her family and loved that we were sharing a beloved family tradition for our own kidlets. Given that pantos usually contain some racy bits & lots of political commentary, I was curious to see how this play would play for the mostly under 4 foot crowd. It turned out to be a raucous & rollicking show and with a reimagined '80s soundtrack, fierce cross dressing & loads of Vancouver insider jokes, the adults were able to enjoy the show as much – if not more – than the littles. Some fine performances, an inspired score from the ridiculously talented Vida Hille & some playful jabs at East Van hipsters made for a very cool n' cultured afternoon.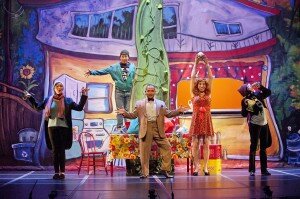 I'm sure that there will be many more traditions to come as our lives evolve & begin to include new partners but I know that whatever activities we partake in they will be things that my kids will look forward to doing with me & with their dad. Although divorce can be an ending of sorts, it's also a time for new traditions and new beginnings. Another new tradition? The Christmas Pickle, my alternative to the uber annoying Elf on the Shelf tradition. I love that the pickle gets hidden & only needs to be moved once.
A huge thank you to Nicole at The Cultch for the tickets! If you have a chance, check out "Jack & The Beanstalk: An East Van Panto" on at The York Theatre until December 29th