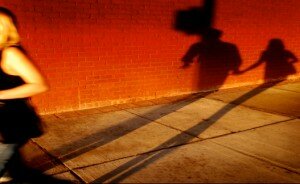 I still have the Save the Date! postcard we sent to our friends & family to announce our engagement and wedding date. It was a cheeky, goofy, blatantly non-traditional design that captured our quirky personalities. The wedding day was pure joy followed by epic mishap. Lather, rinse, repeat. In other words, it was a perfectly imperfect day. For many years thereafter, we would celebrate our anniversary in NYC visiting art galleries, shopping in Soho and enjoying decadent dinners toasting another year. To us.
It's been almost 4 years since we separated – nearly 2 since we divorced – yet every year the anniversary of our wedding day rolls around, I am overwhelmed by a mixture of anticipation and dread. After 10 years of celebrating the day, it's understandable to start to feel a sense of excitement as it draws near; like my brain & my heart are hardwired to crave Central Park in early September. I feel slightly maudlin when the day comes and goes without fanfare. And without foie gras.
Several "faux"anniversaries and holidays have passed since our divorce but this past year was different. It would have been our 15th anniversary, a milestone – the so-called "crystal" anniversary – but it was also the first year that my ex was involved with someone new. We spoke on the phone that day (not unusual as we communicate nearly every day about the kids) but I was inexplicably anxious about whether he would remember that it would have been our anniversary. After a few discussions about the boys' latest antics and our co-parenting schedule, he casually mentioned that he had to run as he was planning a romantic weekend and had to get things ready.
Huh.
I hung up the phone & contemplated that for a moment. Just let all of the emotions wash over me – an accelerated version of the Five Stages of Grief – but a few minutes later, I surprised myself (& the cat) with a huge laugh. Not of bitterness or jealousy, but one of relief. After years of celebrating that date while we were married and subsequently dreading the day post-divorce, I could finally let it go. I will always remember our wedding fondly, but the actual date itself no longer held any special qualities for me. And as for his new relationship? I can honestly say that I am thrilled for him and also happy for my boys. Seeing their dad moving forward with his life with a new partner is such a positive thing for them. We have many dates that we celebrate as a family, from birthdays to Hanukkah, but from now on, that beautiful day in September will be just another day in the after wife.